Welcome to Marble Falls TireMan!
New location now open!
That's right we are now located in Marble Falls and Austin, Texas. While we are performing the work on your vehicle you can relax and rest assured you made the right choice with your investment.
As our sign says "We beat Discount Tire all Day long" Come visit and discover for yourself.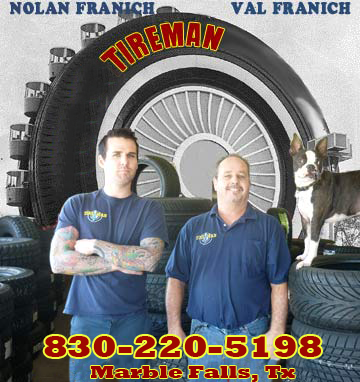 Tentative Business Hours (due to the Corona/COVID-19 pandemic)
Monday – Friday 8:00am – 6:00pm
Saturday – 8:00am – 4:00pm
CLOSED on Sunday
Whether you drive a passenger car, medium sized truck or SUV, our mechanics strive to ensure that your vehicle will be performing at its best before leaving our facility.
AUTOMOTIVE SERVICE & REPAIR
New & Used Tires
Wheel Alignment
Brakes
Shocks & Struts
Tire Rotation
Tire Balancing
Tire Repair
At this family ran business you will likely meet owner Val Franich working the counter attending to every customers automotive tire or suspension needs. However in the event you catch him on his day off, Jeff Johnson (shop manager) often takes the helm. Last and certainly not least is our faithful mascot / 'Tire Dog' is named Lucy Bell Bingo and she loves to come to work each day and jump-upon the stacks of tires and wait among the customers in the lobby.
Latest News:
10 Minute Flat Repair (starting @) $20
(2/2/2021)
-
Call first and make sure we're open (you know COVID-19 crud), then come on over and mention our website special and we'll fix your flat starting (various vehicle fee) at $20 per repair.  Can't beat that & the friendly affordable service to boot, woo hoo!
Marble Falls Tireman is OPEN (tentatively)
(7/21/2020)
-
With the current COVID-19 pandemic ongoing we have limited staff. While we are open for business we are also still renovating and stocking our business. Our best suggestion during these pandemic times is to call 830) 220-5198 and we'll give you a quick answer if we are open and/or have what you need in stock.
Used Tires
(7/21/2020)
-
Used tires starting at $40 Call and inquire, or stop-by today!
We'd love to have you spend a little time on our website (getting to know us), then give us a call. We would be happy to take your reservation (although typically reservation are never required) at TireMan.
No reservations necessary.
Marble Falls TireMan
3102 South Hwy 281
Marble Falls, TX 78654
Phone: (830) 220-5198
Phone: (830) 220-5198